3 DAYS – Vision of Laos Tours

MTO-3-A: Refreshing Exploration of Lao Rivers with Lao flavours
LEVEL: All levels
DISTANCE: Approx. 520 km
TERAIN: 65% off-road (Day 1), 40% off-road (Day 2), 75% off-road (Day 3)
Map for the 3 day ride

Full Itinerary
–
DAY 1 | LUANG PRABANG – MUANG NAN – KUANG SI – HILLSIDE RESORT (L)
Your motorcycle tour begins with a leisurely drive out of town and up to the local village of Muang Nan. On this route you will be able to take a break at the stunning Kacham waterfall. Once you have arrived at Muang Nan, you will enjoy local Lao cuisine and meet the Lao Loum or Khmu people from this welcoming village. The motorcycle journey continues with a breathtaking ride along the Mekong River with a few river crossings. Driving your motorcycle through these small rivers is a great way to cool down from the mild heat in Laos. You will be able to pass by various small villages and open farmlands before stopping at the famous Kuang Si waterfall. A trip to Laos is not complete without a stop at this enormous, cascading waterfall! You will also get to visit the Free the Bears rescue center. Your first day concludes with an overnight stay at the Hillside Resort just outside of Luang Prabang.
DAY 2 | HILLSIDE RESORT – PAK OU – BAN NAGNAN – NONG KHIAW (B,L)
The following day you will head out on your motorcycle to Nong Khiaw on rough roads with breathtaking landscapes. There will be a stop along the way at the Mekong River, where you will cross by ferry to view the historic and religious Pak Ou caves. These caves are home to hundreds of sculptures of the Buddha deity in all shapes, sizes, and positions. You will proceed toward Ban Nagnan to observe the continued tradition of silk weaving and silk dying from natural materials. You will arrive in Nong Khiaw for a taste of Lao cuisine, a chance to meet local people, and to spend the night along the riverside. Nong Khiaw is best known for its bridge across the Nam Ou River, which provides or a spectacular view of the Lao landscape.
DAY 3 | NONG KHIAW – VIANG KHAM – PAXENG – LUANG PRABANG (B,L)
At daybreak the final morning, you will jump on your motorcycle and head toward Viang Kham on some dirt road with dramatic mountain ridges. The road will dip down where you will approach Paxeng and ride along the Nam Ou River. Having 49 officially recognized ethnic groups in Laos, you may be able to meet some Hmong, Lao Loum, and Khmu ethnic groups if you linger around the local village of Paxeng. However, you will spend most of your final day on your motorcycle enjoying the gorgeous scenery. Your three-day journey concludes in the late afternoon when you arrive in Luang Prabang.
–End of the Services–

MTO-3-B: Ride to upland villages, Lao elephants, and waterfalls
LEVEL: Intermediate – Experienced
DISTANCE: Approx. 400 km
TERRAIN: 60% off-road | 40% asphalt
Map for the 3 day ride
Full Itinerary
–
This tour is designed with the more experienced rider in mind. However, a less experienced rider with an adventurous spirit could do this tour as well. (60% dirt and 40% asphalt)
DAY 1 | LUANG PRABANG – HONGSA (L)
You will depart from Luang Prabang on your motorcycle journey across the Mekong River by ferry. On the other side of the Mekong, you will ride along mountainous roads where you will encounter both Hmong and Khmu villages along the way. The Hmong and Khmu have large settlements in the Luang Prabang province, and both groups have a unique language, culture, and heritage. Your journey continues until you reach the Northwestern town of Hongsa, where you will stay overnight at a comfortable guesthouse.
DAY 2 | HONGSA – SAYABOURI (B,L)
After you enjoy a traditional breakfast the following morning, you can observe vegetables, fruits, and various Lao food on display at the bustling Hongsa market. Your day continues as you head toward Sayabouri where you will be able to view scenic landscapes and ride along winding dirt roads. Upon arrival in Sayabouri, you will enjoy a freshly prepared Lao meal, and be accommodated overnight at the Elephant Conservation Centre (ECC).
DAY 3 | SAYABOURI – MUANG NAN – KUANG SI – LUANG PRABANG (B,L)
You will be able to ride, feed, bathe, and befriend these Lao elephants the following morning. A trip to Laos is not complete without getting up close and personal with an elephant! You can also visit their medical centre to learn more about how they help treat Lao elephants. Afterwards, you will get on your motorcycle and ride out toward Muang Nan, a welcoming little village with friendly people. You will continue through this village toward Luang Prabang on a road right along the Mekong River with a few crossings. Though before arriving in Luang Prabang, you will take a relaxing break at the Kuang Si waterfall. At the waterfall you can take a dip in the turquoise water, and visit the Free the Bears rescue center. Your three-day motorcycle ride concludes in the afternoon when you arrive in Luang Prabang.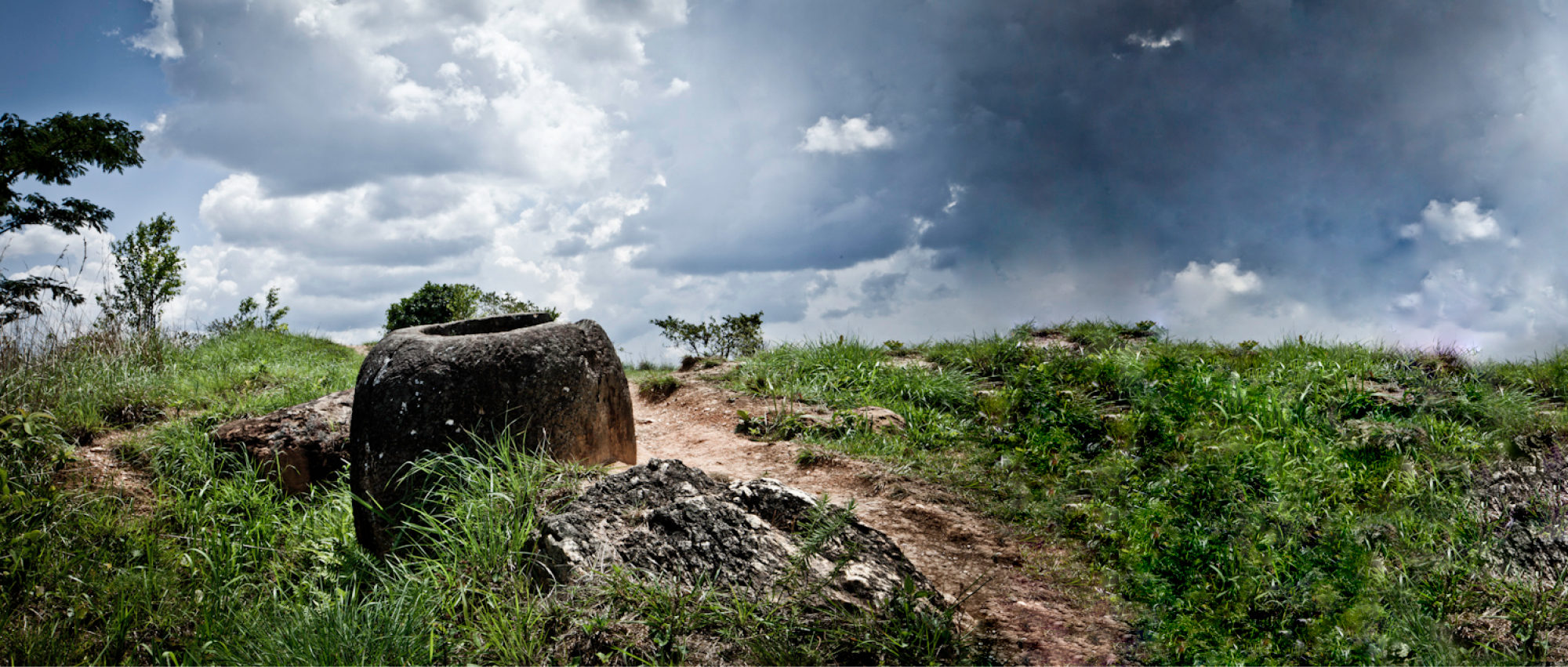 MTO -3C| Jungle and Jars
Jungle trails and the Plain of Jars
LEVEL: Experienced
DISTANCE: Approx. 600 km
TERAIN: 80% off-road (Day 1), 95% off-road (Day 2), 90% off-road (Day 3)
Map for the 3 day ride
DAY 1 | LUANG PRABANG – VIENG THONG (L)

Start your morning by visiting our MOTOLAO Garage: Café and Workshop to have a cup of coffee before a thrilling day out on the bikes. You will begin the tour by riding northeast out of town on a short stretch of tarmac before switching over to a stunning graded section through the Lao countryside. You will then turn back onto the tarmac for roughly 70km into Vieng Thong, a small Lao village that is far from the tourist trail. We will stay overnight here at a small guesthouse.
DAY 2 | VIENG THONG – PHONSAVAN (B,L)

Today you will begin riding off-road along dirt trails heading south towards Phonsavan, the capital of Xiangkhoang Province. This route is a rider's paradise that has single track sections that go through bamboo tunnels with some challenging twists and turns before emerging into the wide-open plains of Phonsavan. Spend the afternoon watching the sunset at the famous Plain of Jars.
DAY 3 | PHONSAVAN – LUANG PRABANG (B,L)

After breakfast you will head out west on wide open roads through some remote areas of the country, With over 175 km of off-road riding, this will be one of your longest days out on the bike. This route features some river crossings and challenging trails through the mountains as you head back to Luang Prabang. Enjoy a cold Beer Lao on ice at the MOTOLAO Garage upon arrival. You earned it.
–End of the Services–