7 DAYS – Cultural North Motorbike Tour
MTO-7-A: Lanxang Moto Tour
LEVEL: medium – expert
DISTANCE: Approx. 1100 km
TERRAIN: 70% off-road (Day 1), 90% off-road (Day 2), on-road (Day 3), 40% off-road (Day 4), 70% off-road (Day 5), 20% off-road (Day 6), 80% off-road (Day 7)
Map for our 7 MTO – A Tour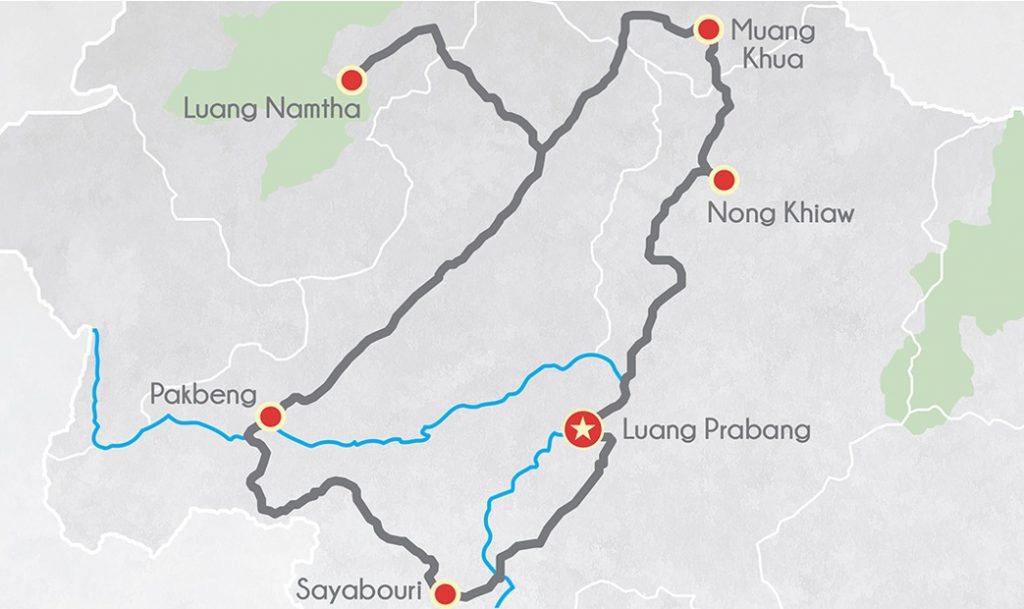 Full Itinerary
Riding your motorbike through Laos is exciting enough, but imagine doing it for an entire week. We really recommend this tour! It gives you a deep insight into Laos and leads you through some really thrilling and rarely visited and untouched areas of our home country. Laos Motorbike Adventure riding at its best…
This moto tour is suitable for medium and good riders who wish to explore Laos in depth. As most of our tours also this one shows you just some of the best areas you can see in Laos. You will experience remote villages, Khamu, Hmong, Akha ethnic minorities a truly enriching bath with an elephant, overnight stays in remote villages, cultural encounters and also a relaxing time in a beautiful resort. Also the Mekong River comes along and surely you will take home amazing memories.
–
DAY 1 | LUANG PRABANG – PAXENG – VIANG KHAM – NONG KHIAW (L)
You will embark on your motorcycle journey from Luang Prabang along winding dirt roads up toward Paxeng. This route will be along the Nam Ou River, arguably one of the most important rivers in Laos that connects the northern province of Phongsaly to Luang Prabang. Once you arrive in Paxeng, you will begin driving along some magnificent mountain ridges through Viang Kham. The terrain is a combination of dirt and asphalt, which makes for an exciting journey. You will spend your first night in Nong Khiaw at a beautiful hotel along the bank of the Nam Ou River.
DAY 2 | NONG KHIAW – MUANG KHUA (B,L)
You will pick up on your route the following morning up to Muang Khua. This town is in the Phonsaly province, and is home to the Akha people. Living at a high elevation in the mountains of Laos, the Akha ethnic group wear some of the most elaborate and colourful clothes. You will be invited into the home of a local family for an unforgettable home stay experience. You will be invited into the home of a local family for an unforgettable home stay experience. The family will prepare traditional meals for dinner and breakfast, and you will gain a deep understanding and insight into the culture and remarkable history of the Akha group.
DAY 3 | MUANG KHUA– LOCAL VILLAGE  (B,L,D)
After you wake up the next morning, you will head out on your motorcycle along mountainous roads. You can visit remote Hmong villages along the way, and maybe learn a few words in their native language. Laos is one of the most ethnically diverse counties on the planet. The government officially recognizes 49 distinct ethnic groups. You will stay overnight at a guest house in one of the various local villages.
DAY 4 | LOCAL VILLAGE – LUANG NAMTHA (B,L)
After finishing your breakfast, you will ride out on your motorcycle toward Luang Namtha. This route features some breathtaking scenery and gorgeous landscapes along the way. If you arrive at Luang Namtha early, you can explore through their two bustling markets, or take a boat ride along the Namtha River (price not included). Your accommodation for the night will be at a local guest house.
DAY 5 | LUANG NAMTHA – PAKBENG (B,L)
On the fifth day, you will embark toward Pakbeng along winding, dirt roads. You will travel through a diverse number of remote villages in this region. It will be a long day out on the bike, but the combination of pristine Lao landscapes and off-road riding make it well worth the trip. Pakbeng is a remarkable village with a temple in the hills that dates to the Kingdom of Lanna (Kingdom of a Million Rice Fields). Your day concludes in Pakbeng with an overnight stay at a local lodge.
DAY 6 | PAKBENG – HONGSA – SAYABOURI (B,L)
As the sun rises, you will head out form Pakbeng to Hongsa, another small village with a bustling market. You will stop for a quick meal before continuing on toward Sayabouri. Once you arrive at Sayabouri, you will be accommodated at the Elephant Conservation Center. Here you will be able to ride, feed, bathe, and befriend these gentle giants. A trip to Laos is not complete without getting up close and personal with an elephant. You can also visit their medical centre to learn more about Lao elephants.
DAY 7 | SAYABOURI – MUANG NAN – LUANG PRABANG (B,L)
On your seventh and final day of this tour, you will depart from Saybouri toward Luang Prabang. You will pass through Muang Nan, a local village where both Khmu and Lao Loum ethnic live. Continuing on from Muang Nan, you will ride out along the mighty Mekong River where you will have a few river crossings. The terrain will consist of dusty roads along stunning farmlands and fields of teak trees. Your seven-day Lan Xang tour concludes once you return late in the afternoon to Luang Prabang
— End of ther Services —
Explore valleys in the North, Secrets in the East & the Plain of Jars
LEVEL Experienced
DISTANCE Approx. 1800km
TERRAIN 70% off-road (Day 1), 90% off-road (Day 2), 90% off-road (Day 3), 50% Tarmac (Day 4), 80% off-road (Day 5), 85% off-road (Day 6), 80% off-road (Day 7)
TOUR CODE MTO-7-ADV
OFFROADLAOS 7 Day Jars and Valleys Map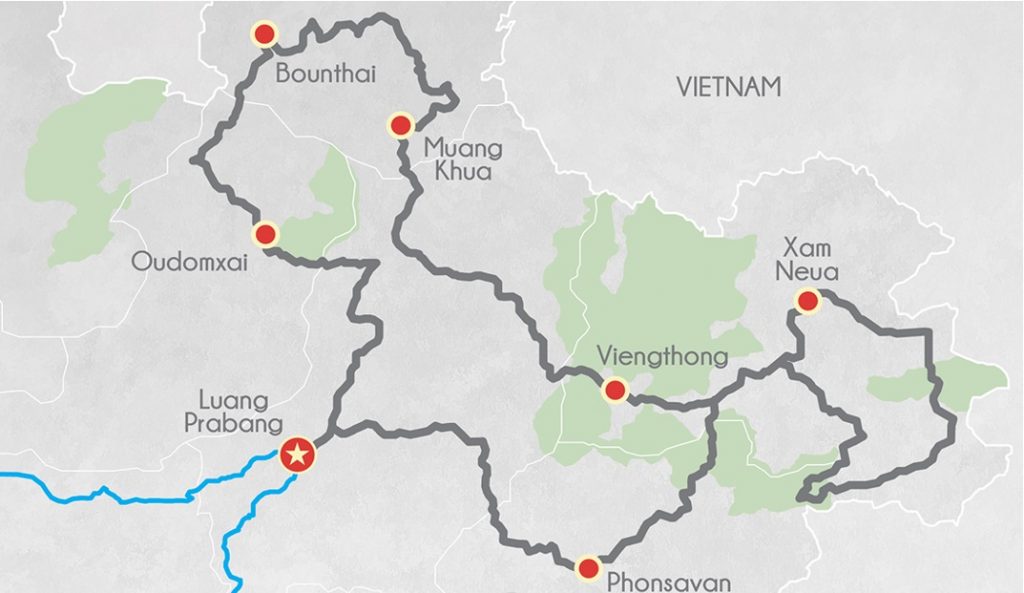 DAY 1 | LUANG PRABANG – OUDOMXAY
We'll depart from Luang Prabang in the morning, taking a short blast up Route 13 northbound. We'll soon turn onto dirt roads, following a winding valley through the mountains. This route has all of the elements to make a great first day on the bike — thrilling twists around rivers and quick turns through small villages. We will return back to pavement for a short ride toward the town of Oudomxai for the night.
DAY 2 | OUDOMXAY – BOUNTHAI
Today makes for a stunning ride through the mountainous area of Bounthai, a quiet town just 100kms away from Phongsali, the northernmost province of Laos. The route passes through many diverse ethnic groups that live up in these highland areas. We will pass through lush rice fields and winding roads as we ride through this beautiful area toward Bounthai.
DAY 3 | BOUNTHAI – MUANG KHUA
Today's ride will feature hair-raising single trail sections that are hardly used, and rickety bridges crossing a few rivers on our way to Muang Khua, Phongsaly. There's a second route option that we may take depending on how intense you wish to make the ride this day.
DAY 4 | MUANG KHUA – VIENGTHONG
After breakfast, we will head out in the morning for a 80km ride off-road before switching back onto tarmac roads. This paved route has enough twists and turns with extended views of the mountains around to make for an interesting ride. Take a dip in the local hot springs to relax those aching muscles upon arrival in Viengthong.
DAY 5 | VIENGTHONG – XAM NUEA
Today will be almost entirely off-road as we ride out to the most secret mountain in all of Laos: Lima Site 85. This area was used by the Hmong 'secret army', the CIA, and the United States Air Force during the Vietnam War. Riding a motorbike through this area is awe-inspiring as it features some of the best trails through picturesque valleys and mountain ranges.
DAY 6 | XAM NUEA – PHONSAVAN
Today will be another big day as we ride along stunning trails that cut through the mountain side, providing some of the best views in Laos that will leave you amazed. We will cross some rivers along the way as we pass through remote sections of the province before arriving north of Phonsavan.
DAY 7 | PHONSAVAN – LUANG PRABANG
While this is the final day of the tour, it will not disappoint. We begin in the morning hitting the trail back to Luang Prabang, featuring stunning paths that take us through the plains of Phonsavan. We will soon return back to riding through mountainous areas as we head back to Luang Prabang for a well-deserved beer
7 Day | The Golden Triangle
A remote ride into the infammous Golden Triangle
LEVEL Intermediate – Experienced
DISTANCE Approx. 1135 km
TERRAIN Approx. 80% off-road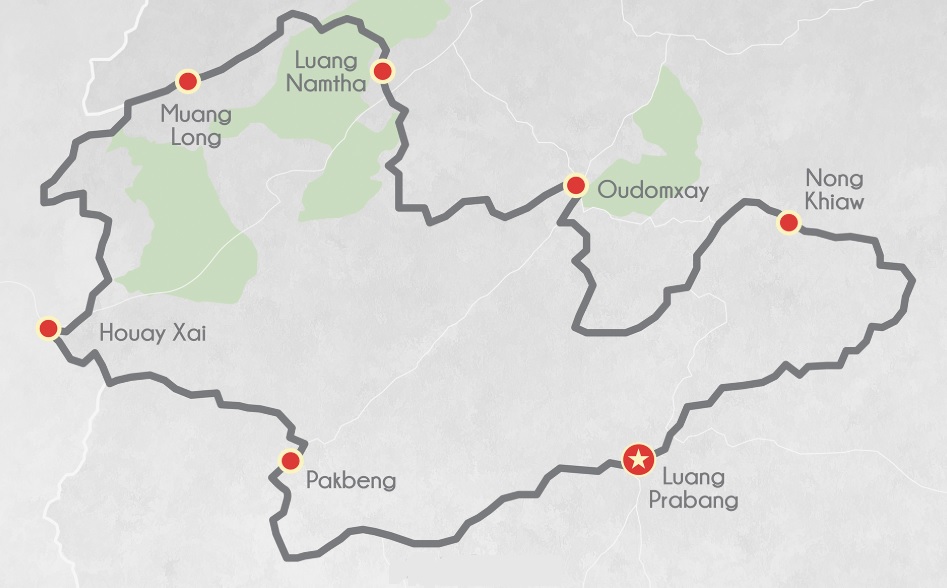 DAY 1 | LUANG PRABANG – PAKBENG
We will depart Luang Prabang in the morning west along the Mekong River. There are some great trails that will take us through the mountains with some beautiful remote spots to stop and take in the views before we reach tarmac roads near Pakbeng. We will stay overnight in a guesthouse along the banks of the Mekong.
DAY 2 | PAKBENG – HOUAY XAI
Today we will ride up through the misty mountains toward the start of the Golden Triangle. There are some exciting trails will lead us into Houay Xay were we will visit the French Fort. Near the fort there are some stunning view of the entire area. This is a relatively easy day on the bike, and will finish early to enjoy the city.
DAY 3 | HOUAY XAI – MUANG LONG
Today we begin our journey through the legendary Golden Triangle. It will be mainly offroad riding, with enough time to go and explore the vast trail network in this area before spending the night in the remote town of Long. This is where you will see rural Lao life at its best.
DAY 4 | MUANG LONG – LUANG NAMTHA
This is a short day on the bike which will enable us to further explore this area, riding straight into the heart of the triangle as far as the trails will let us. These are some of the most remote areas of Laos where the Triangle meets, providing a real insight into this historic area.
DAY 5 | LUANG NAMTHA – OUDOMXAY
This is another fantastic day spent exploring the trails in this area, doubling back to ride through some of the more unique trail in the area. We may be able to discover some new trails in the area before eventually arriving in the city of Udomxay where we will spend the night.
DAY 6 | OUDOMXAY – NONG KHIAW
After leaving our hotel in the morning, we will immediately head back onto dirt roads for some more great trail riding with a few river crossings. We will arrive early into Nong Khiaw, an idyllic town located right on the Ou river. There will be enough time for some sight-seeing in this town that is very popular with tourists.
DAY 7 | NONG KHIAW – LUANG PRABANG
Today is the final home stretch, and it will surely not disappoint. We will take a short blast down a twisty road toward Viengthong, leading us toward one of our favourite trails. There are single track riding up in these mountains that follow the river as it meanders through the countryside. We should arrive back in Luang Prabang in the afternoon.